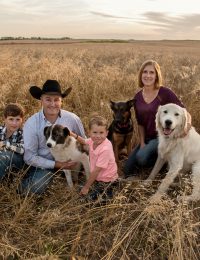 Veterinarian
My name is Justin Noble. I grew up just outside of Estevan, Sask. I was actively involved in anything horse related and loved playing hockey through the winter. After graduation from high school, I attended Casper College in Casper, Wyoming for 2 years. I judged livestock (cattle, sheep, hogs, and horses) for the college and was student body president during my second year of junior college. From there I transferred to Texas Tech in Lubbock, Texas again, to judge livestock. In 2003 I was accepted into the veterinary school at the Western College of Veterinary Medicine in Saskatoon and graduated in 2007.
After graduation, I worked in Carlyle and Redvers, Sask for one and a half years followed by one year in Estevan and Weyburn.
In September 2007, I married Deneille. We have 2 wonderful, happy, smart and athletic boys. I have the privilege of coaching both their hockey teams which I truly love to be a part of. As a family, we spend time together while riding our horses and camping. I enjoy team roping and just about anything that has horses involved.
I have thoroughly enjoyed offering veterinary medicine to Esterhazy and area. In September 2019, we have been here for 10 years! I enjoy all aspects of veterinary medicine but the area that I am most passionate about is surgery. I have the wonderful experience of working with a great team that is extremely motivated and dedicated.
I look forward to enjoying this career in Esterhazy for years to come.